Introduction
Installation
First utilisation
Managing your pictures
Sharing your pictures
Exporting your pictures
Web sharing
Advanced Functions
Tutorials



Web sharing



This functionality allows you to share easily your pictures on the web (P2P principle). Your family and friends can look at your pictures at home, simply using their internet browser.

Select the pictures you want to share, right click on one of them, choose the "Operations" option, then "Web share". The following window appears:



From then jBrout acts as a http server.

Access to originals: If this option is checked, the picture is not downsized when displayed on full screen mode. Beware of loading times that can become very long.

View as albums: the albums containing the selected pictures are listed on the left side of the browser page.

The user of the remote computer opens his browser and fill in your computer IP address (http://88.122.13.56:8080 in this example. The IP address is displayed at the top of jBrout "Instant Web" window).

The following example shows how your pictures are displayed in the web browser (the use of Internet Explorer is not recommended. Prefer Firefox, Opera, Kmeleon or Safari for example, as they are more respectful of the HTML norms):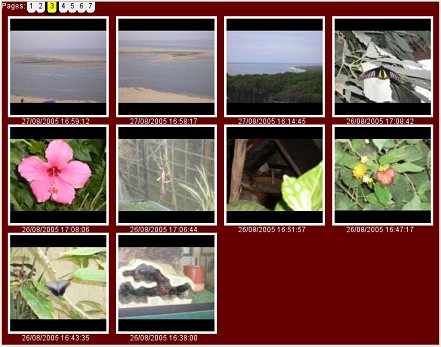 Just click on a picture to display it in full screen mode.